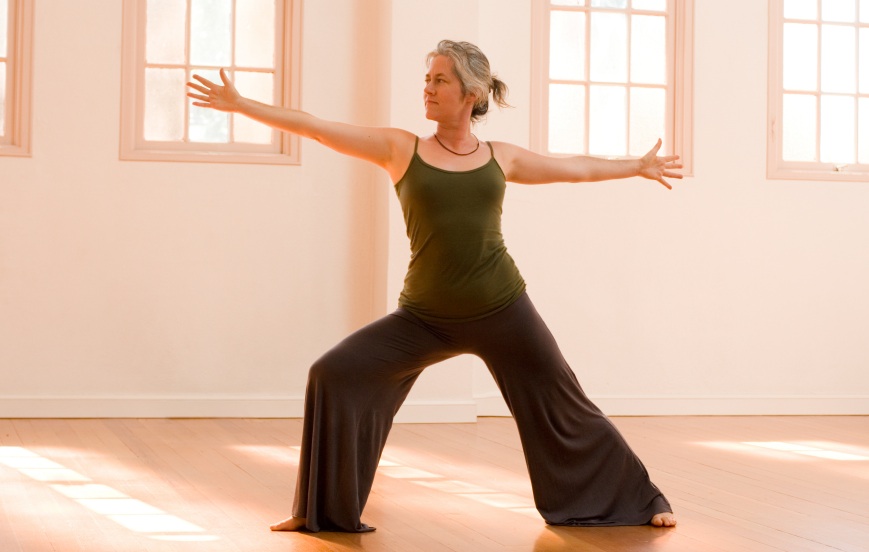 The Yoga Center currently offers evening (5:30 p.m.) Kripalu Yoga and yoga nidra classes, Men's yoga (7:15 p.m.) and Sunday AM Yoga for Fitness (10:00 a.m.):
Check out our current class schedule for dates and times. To learn more about class rates, visit our Rates Page.  We encourage you to register for classes.
Beginner Yoga
w/ Jim Readey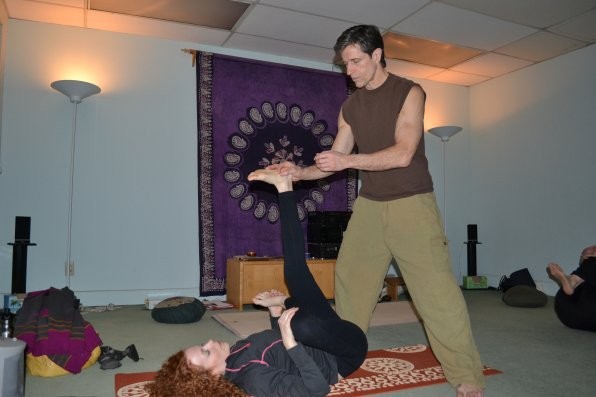 (Mondays, 5:30 p.m.) [beginner and ongoing students]   These classes are a perfect, user-friendly introduction to the practice of yoga.  They are ideal for students who are brand-new to yoga – or for anyone simply wanting a relaxing class, or to review the basics. Topics covered include basic breathing techniques, how to relax within a pose, as well as detailed physical instructions that instill confidence for the new practitioner.
Deep-Relaxation Yoga/Meditation (yoga nidra) 
w/ Jim Readey
(Tuesdays, 5:30 p.m.) [all levels]   Here is a yoga class designed to help you downshift, de-stress, unwind, let go…to refill your well with the least amount of effort possible.
The first half (to 2/3) of the class will resemble our other mindful and rejuvenating Kripalu yoga classes. But, then, the real fun begins: For the rest of our time together, you'll lie down on your mat, in a comfortable position…and, well, that's it! For the next 30-40 mins., you'll be led through a deeply soothing yoga nidra experience, in which every part of you – your body, mind, emotions, etc. – will be guided into a deeply restful and relaxed state. (It's like the usual end-of-class relaxation, only longer and deeper.)
All Levels Yoga
w/ Jim Readey
(Wednesdays, 5:30 p.m.) [all levels]   These classes are for students of all practice levels and experience… kind of like a one-room schoolhouse. As with the other Yoga Center classes, these "all levels" offerings take their inspiration, in part, from the desires and needs of the students in the room at the time. Requests are welcome, in other words!
Yoga & Core Strength
w/ Jim Readey
(Thursdays, 5:30 p.m.) [all levels]   A vigorous yoga practice that is guaranteed to develop your functional core strength, as well as increase your confidence to perform a variety of empowering yoga postures.
While offering plenty to challenge even the most experienced yogi, the class strongly supports using easier and "friendlier" modifications whenever needed.  Everyone is encouraged to go at their own pace.  You will learn how to modify challenging postures to suit your present circumstances … and then watch yourself steadily improve each class!  (Joy and laughter are enthusiastically encouraged – because yoga is far too important to take seriously!)  
(Thursdays, 7:15 p.m.)  [all levels]   A yoga practice designed by and for men to help you ease into the practice easily — in a friendly, non-competitive environment — find the postures and movements that are just right for your body, and learn to bring relief to aches and pains, stiffness, anxiety, depression, insomnia, and so much more…
[note: separate registration; click here to sign up and pay]
Yoga for Fitness w/ Jim Readey
(Sundays, 10 a.m.) [all levels]   These classes are for students with (preferably) at least some yoga experience who desire to take their physical practice deeper — anyone looking to be challenged, in other words. Or someone looking simply to shed some belly fat, or become more fit.
Note: Students will be supported to listen to their bodies, notice any tendency to push too hard, and to (compassionately) back off from any ego-based over-striving. It's a profound learning for your yoga practice…it's an invaluable lesson for your life. ♥
 

~~~
Some past classes that may return soon:
Introduction to Yoga Nidra with Jim Readey
(currently on hold)   [all levels]  In this series, students will learn the essentials of yoga nidra in an experiential, interactive setting.  Each class will consist of preparatory exercises, as well as an extended yoga nidra practice at the end.
About yoga nidra: While many meditation techniques tend to plunk us down on a cushion, and leave us alone to clear our mind, yoga nidra takes us by the hand and leads us on a guided tour of our inner terrain.  In this way, we attain a deep understanding of the meditation process as it unfolds.  Students experience profound relaxation on physical, mental, and emotional levels … as well as — not infrequently — life-transforming insights.